Shandong Yinfeng Life Science Research Institute has been selected as the first batch of "provincial new R&D institutions" to accumulate the new kinetic energy of industry-university-research collaboration
---
A few days ago, Shandong Provincial Department of Science and Technology issued the Public Notice on the First Batch of Provincial New R&D Institutions for Filing in 2020, and Shandong Yinfeng Life Science Research Institute (the research unit of our foundation, hereinafter referred to as Yinfeng Health Science Academy) was approved as the first batch of "provincial new R&D institutions".

This accreditation is the first recognition of new R&D institutions within the whole province. Through many links such as unit declaration, prefectural and municipal preliminary examination, expert demonstration, field investigation and conference research, 134 scientific research institutes have been selected. Yinfeng Health Science Academy is one of the 17 selected scientific research institutes in Jinan. According to the investigation, Yinfeng Health Science Academy takes biomedical science research and development as the core, and plays a positive support role in the first trial process of new and old kinetic energy conversion in Jinan, and plays an active role in the life science fields such as gene information database, stem cell technology, cell therapy research and clinical transformation, cryopreservation of human cells, tissue organs and even human genetic and clinical resources and organ function maintenance.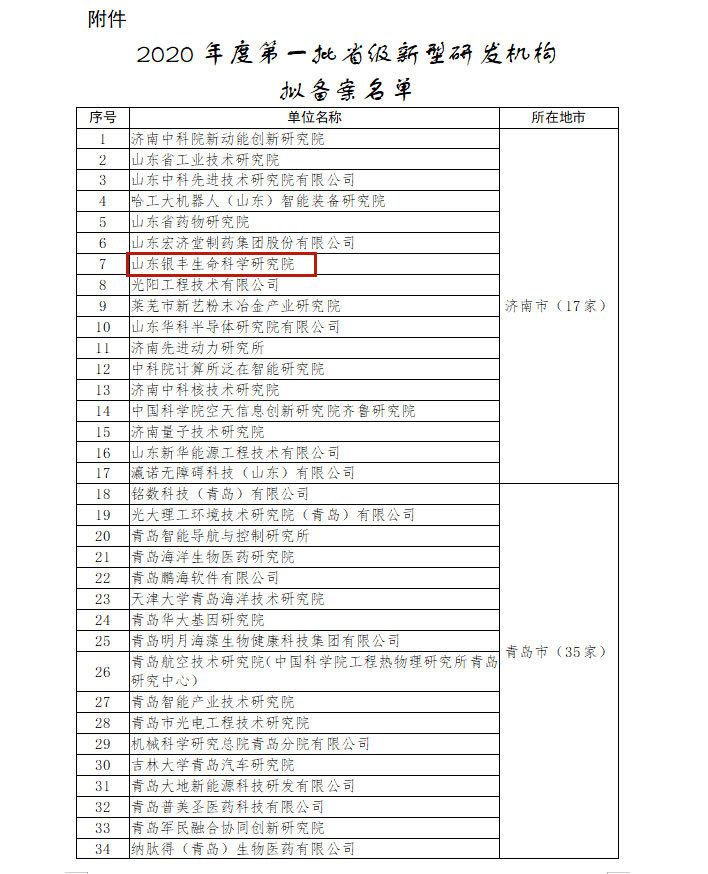 It is reported that in 2019 the Provincial Department of Science and Technology issued the Interim Measures for Management of New Research and Development Institutions of Shandong Province (LKZ [2019] No.7), in which it clearly proposed that the construction of new R&D institutions should be strengthened comprehensively, and the scientific and technological innovation system of the whole province should be further improved so as to provide support for the transformation of new and old kinetic energy of Shandong Province. It also points out that the new R&D institution mainly refers to the independent legal person organization which has the ability of sustainable development, which has the ability of sustainable development, which has the core function of developing industrial technology research and development, and has the functions of application basic research, technology transfer and transformation, incubation cultivation of scientific and technological enterprises and high-end talent clustering.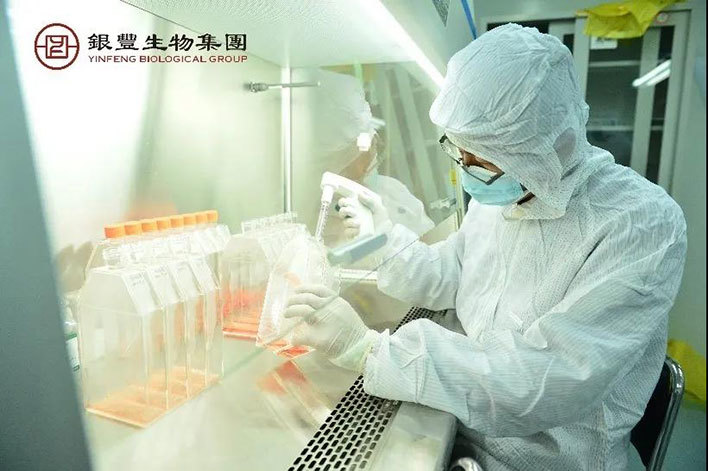 Yinfeng Health Science Academy was established in 2015 and is the only comprehensive scientific research unit covering the whole industry chain research system of cell tissue resource storage, technology research and product transformation in Shandong Province. It has several secondary scientific research units including Hainan Yinfeng Institute of Precision Medicine, Institute of Regenerative Medicine, Institute of Cold Medicine, Research Institute of Gene Science and Technology, Institute of Immunotherapy, Beijing Research and Development Center, Jinan R&D Center and American Research and Development Center.
Under the new strategic background of "adhering to the core position of innovation in the overall situation of our country's modernization drive, taking self-reliance and self-improvement of science and technology as the strategic support of national development", Yinfeng Health Science Academy will closely follow the demands of economic and social development and the development trend of science and technology, carry out scientific and technological research and development activities around the forward-looking technologies, key common technologies, local pillar industries and core technologies of strategic emerging industries in key technical fields of the top ten industries in Shandong Province, master core technologies, enhance innovation ability, enable medical health industry development, and continuously lead life sciences and biotechnology industries to continue to advance. Provide stronger technical support for innovation-driven development and transformation of old and new kinetic energy.
Share To: